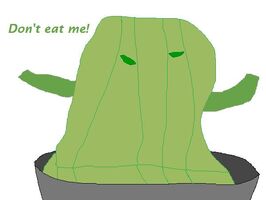 As this is Runescape, don't expect jelly to be something you can have for desert.
No, only in a Jagex Original, could there be a monster that is JELLY!
And no, you can't kill it by eating it. :(
OM NOM NOM?
Edit
Nope, as it is a slayer monster, it puts up a incredibly difficult fight. Whatever you do, don't use your Pro-Mage.
I'm serious, it uses magical-MELEE, which means...
You need at least 43 prayer.
ONM-NOM-OMN Good drops?
Edit
If you continue to eat it, of course not! They'll dissolve in your stomach. Science 101 is science.
However, the jelly is infamous for dropping level 2 clue scrolls, which may actually be improved in the future. Aside from those, just bring a few alch runes, they may come in handy.