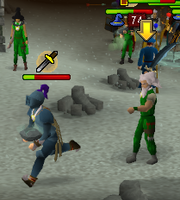 The Fist of Guthix isn't an actual fist, nor is it FOG is you've been listening to
some silly players
. It is actually one of several
activities
mini-games created by Jagex to compensate Pkers for the removal of their beloved Wilderness.
The objective is spam as much as possible. One player needs to hold a retarded ball for long enough while being attacked by Guthix's farts and the other player needs to find him and spam the shit out of him when he hides behind a rock. Everyone goes to the centre but fails because the spam there is un-fucking-beliveable. Eventually, you are forced to forfeit and make the big ugly shitface pissed off at you so you lose points. Simple.
Ad blocker interference detected!
Wikia is a free-to-use site that makes money from advertising. We have a modified experience for viewers using ad blockers

Wikia is not accessible if you've made further modifications. Remove the custom ad blocker rule(s) and the page will load as expected.