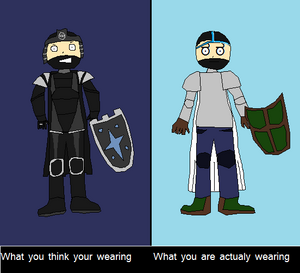 The PruneScape Achevement Diarys, now known as "Tasks" is a mindnumbing clusterfuck of pointless tasks and missions requiring the player to run around and jump though hoops for hours on end for some armour with bronze stats and genie lamps containing an exp amount so small, I had to use the Hubbard telescope peered over an electrion microscope to actualy see it. (see also, Mod Fetski's brain)
417 tasks!?! how in the holy mother of...
Edit
Ok, now before you have a seziure on your keyboard, let me explain that they are divided into 5 difficultys,
Beginner: Requires the ability to actualy use a computer, and comprehend simple instructions, like moving, or equiping a item...in other words, 90% of free players are screwed from the begining. Only featured in the Lumbridge Diary for F2P and guess what.....SKILLERS CAN'T DO IT, GUWAHAHAHA!!!!
Easy: Exactly what it says on the tin, requires running around feeding pets, old ladies, and talking to NPC's, much like an extremely watered down version of Animal Crossing, and thats being very kind to it. Just about everyone has the requirmets for these, but just about no one wants to get off their ass and do these.
Medium: Decent requirments making them "pure-proof", not much to say except enjoy the free 10k lamps
Hard: Absurd requirments making them "normal player-proof" requiring skills in the 70's and enough quests to drive anyone off doing these. Only ever done by lvl 120+ quest addicts suffering from quest point withdrawl after getting their cape.
Elite: Flagship diary, brings the requirments from absurd to OUTRIGHT FUCKING DEMENTED!! SERIOUSLY!! WHO THE ***** HAS 95 SUMMONING OR 90+ FARMING?!?! WHO ACTUALY WANTS TO GRIND 50 TRILLION SMITHING LEVELS FOR A STEEL PLATEBODY??? ok ok....
They might as well make an elite task list requiring the following:
Solo Nex in full bronze while resiting the lyrics for Aqua - Barbie Girl
Run from Egdeville ditch to Rouge's Castle and back again wearing a blue partyhat and full torva without taking any damage
Cure AIDS
Cure Cancer
Jump off a exploding building, while during elemental workshop 3 with Nomad and the Corpreal beast in the same room, then strap 2 lorries to your legs with steel chains and run 10 miles in world 18 wilderness and finally defeat Lucien in a game of Magic the Gathering (without dark ritual....gf)
Ad blocker interference detected!
Wikia is a free-to-use site that makes money from advertising. We have a modified experience for viewers using ad blockers

Wikia is not accessible if you've made further modifications. Remove the custom ad blocker rule(s) and the page will load as expected.